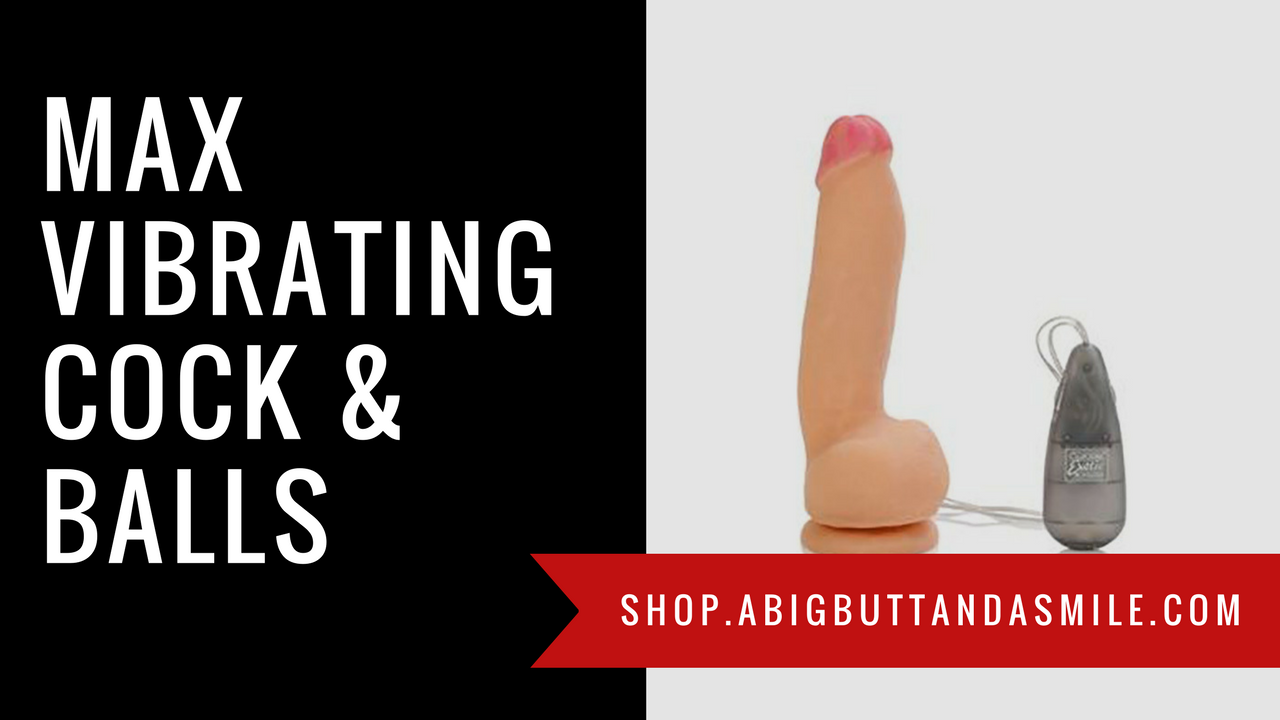 ---
About Max Vibrating Cock & Balls
---
Take it to the Max!
The Max Vibrating Cock & Balls from California Exotic Novelties is a must-have for the times you need some serious pleasure, but your partner isn't around.  The vibrating dong is incredibly life-like with a texture that feels very much like real skin.
California Exotics paid enough attention to detail when creating this vibrator for even the folds and ridges, plus the tapered smooth head, to mimic a real penis. The vibrator is categorically light pink with a cherry top head making it even more realistic.
---
Design & Features
---
The Max Vibrating Cock & Balls is a life-like cock that holds an impressive 2-inch girth guaranteed to hit the spot no matter how you choose to use it. The robust balls will fill you up – if you are into that sort of thing! At the base of the dildo is a suction cup.
The cup will allow you to stick the dildo to most clean and flat surfaces contributing to some wild hands-free playtime. You can use the Max Cock & Balls Realistic Vibrator in the bathtub or stick it in the bathroom as it is 100% waterproof.
The vibrating dildo boasts an impressive total length of 9.25 inches with a 6.5-inch cock length that most experienced dildo users can comfortably insert.
---
---
Materials & Texture
---
The Max vibrator is made using non-toxic materials. It is phthalate-free thus anyone, even those with allergies can use it. It is also made using Thermoplastic Rubber TPR, the material responsible for giving the Max Vibrator its realistic look.
The rubber is multi-layered to allow the Max Vibrator remain firm just like an actual hard penis. It offers the kind of smooth texture and elasticity that you would expect on a real cock.
TPR isn't the best sex toy material, so if you detect any discoloration or odor toss the toy immediately.
---
Performance & Use
---
California Exotics Max Vibrating Cock & Balls holds two powerful multi-speed motors that make both the shaft and balls vibrate simultaneously, providing that intense vibration you need for a powerful orgasm.
The Max Cock retains its form even after hours of pulsating pleasure. Its lifelike look and realistic-feel material make the vibrating cock warm to the touch.
The Max Cock & Balls Vibrator has a flared base that can be secured to any 2-inch rubber ring harness.
---
Care & Maintenance
---
The Max Vibrating Cock & Balls vibrator is very easy to clean. Use a sex toy wipe or warm soap and water for best results. You can use a water-based or silicone lubricant if you want a little extra lubrication when using the vibrator.
Make sure to clean your vibrator after each time you use it. II is also wise to read the care and cleaning directions on the toy's manual for more guidance, so you don't damage the vibe.
Unfortunately, The Max Vibrator operates on only 2AA batteries, so recharging isn't available.
---
Max Vibrating Cock & Balls Pros
---
100% waterproof
Enormous girth
Great cock length
Realistic look
Powerful vibration
Wonderful if used with a clit toy
---
Max Vibrating Cock & Balls Cons
---
Not suitable for beginners as some find it quite big
---
Final Thoughts
---
Customer reviews have branded the Max Vibrating Cock & Balls vibrator a brilliant toy suitable for the more experienced thrill seeker. It offers great satisfaction through its powerful vibration.
However, this vibrator might not be a welcome toy for first-timers. For some customers, the girth and length might be slightly oversized and could pose a problem when inserting the cock.
The Max Vibrator is the perfect naughty gift for your loved one or yourself.
Buy the Max Vibrator Cock & Balls Today.
---
---
Buy Now | More Vibrator Reviews | Follow Us On: Twitter | Instagram | YouTube | Pinterest
---
Tags:
California Exotics
Realistic Vibrators