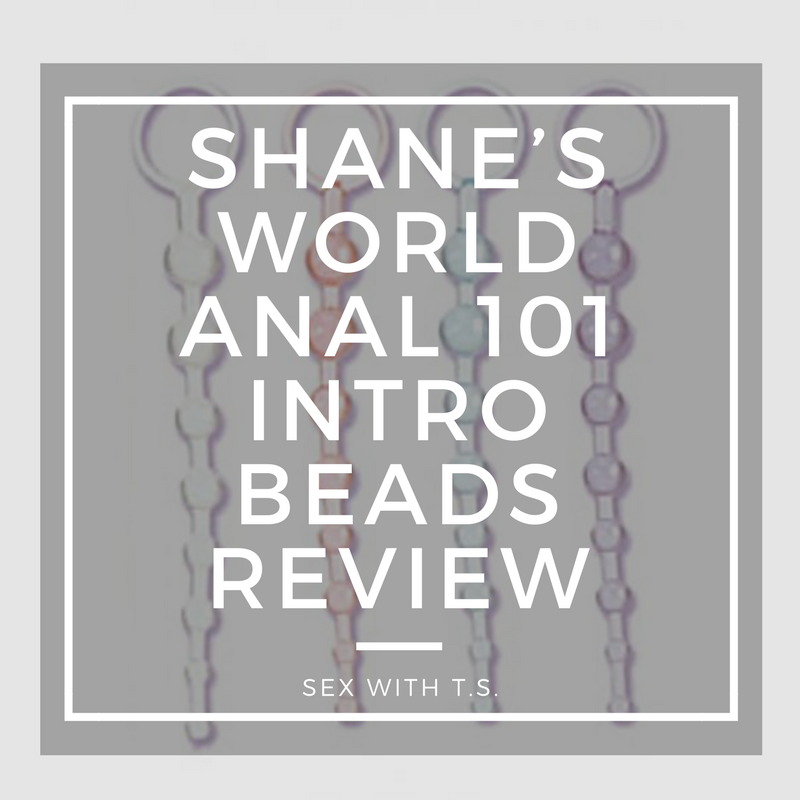 ---
Shane's World Anal 101 Intro Beads Review
---
Shane's World Anal 101 Intro Beads by California Exotics are the perfect anal beads for the newbie anal explorer. The jelly beads range in diameter from .375 inches to .875 inches and come with a nicely sized handle to prevent any lost and hoping to find action while playing with them.
The slim size allows for the novice to get used to the sensation of beads inside of them without being overwhelmed or experiencing too much pain. Always remember, when it comes to anal play, lubrication is still the key to making it an enjoyable and not a painful experience.
Materials & Texture
These beads are very smooth and made of a sturdy firm jelly, with a nice light pink handle at the end. Now, jelly makes for a nice smooth, realistic toy, however, it is also highly porous. It can be difficult to keep clean and carry bacteria even after disinfecting them. This can lead to infections or worse, and with anal toys, this is something you really want to watch out for.
At the price point, these beads may best be viewed as a disposal toy, not something you want to keep around for a long time. Just to be safe, clean thoroughly after use and if after several usages you notice any discoloration or smell, throw away immediately. Also store these anal beads in a breathable storage, away from your other sex toys so there won't be any chances of cross contamination.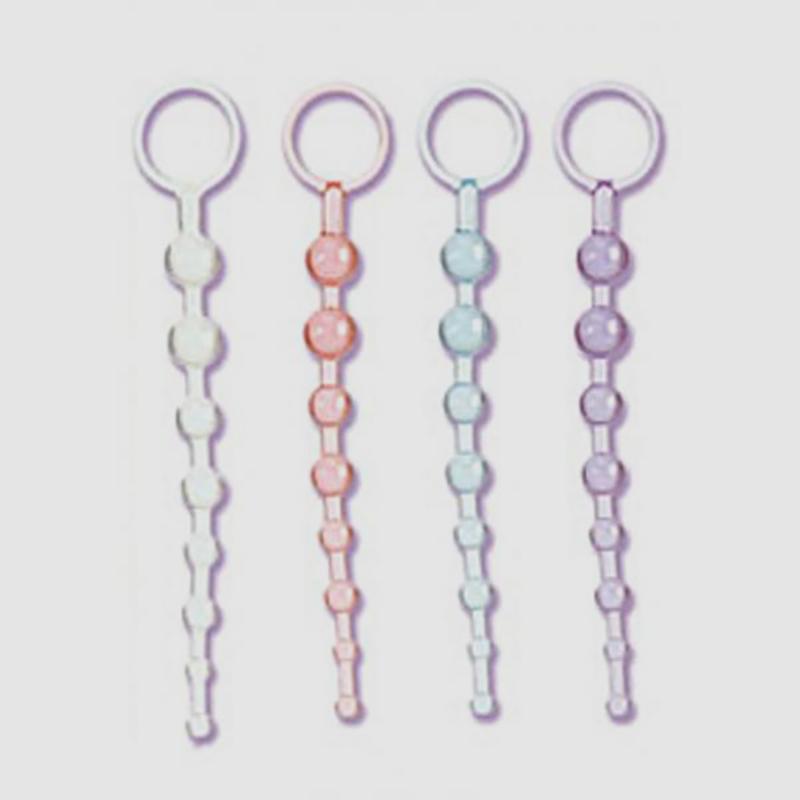 Design & Features
The slim anal beads are sized perfectly for the novice yet can be great fun for the advanced anal connoisseur as well. The Anal 101 Beads are 7.50 inches in length with firm beads in graduated sizes ranging in size from .375 inches to .75 inches with a half inch gap between each bead.
Shane's Beads have a slight curvature that, with some experience, can be angled to massage the prostate. The beads can be used for deep thrusting or slowly inserted to feel each bead as they enter. Whatever your choice of speed the naturally curved shape of the beads makes exploring simple and pleasurable.
The retrieval ring avoids the beads getting lost in the rectum and the flexibility of the rings makes it a pleasurable experience while training your anus.
Performance & Use
These beads are outstanding Never underestimated the power of a bead. They are perfect for the beginner since they do start off small and you are able to go at your own pace, and introduce something new to that area that starts off small while increasing in size is not overwhelming. While the beads aren't big they still manage to provide a great deal of pleasure.
Care & Maintenance
With anal beads, you always want to use an anti-bacterial cleaner to sanitize the beads once used. Their Universal Toy Cleaner is an anti-bacterial spray perfect for cleaning any sex toys including anal beads. This exclusive toy cleaning agent that removes all the unwanted remains which might cause irritation and deteriorate your toys.
Final Thoughts
Anal play is a great way to add variety to your sex life and to achieve some out of this world orgasms. These Shane's World Intro 101 Anal Beads are a great way for the beginner to be introduced to anal activities and for the anal connoisseur to refine their game. Affordable, sturdy and easy to use, these beads are a great addition to anyone's sex toy chest.
---
Buy Shane's World Anal 101 Intro Beads
---
Shane's World Intro 101 Anal Beads Cons Pros
---
Perfect for beginners
Firm
Bendable
---
Shane's World Intro 101 Anal Beads Cons
---
Made of jelly
Porous
Not for more advanced
---
Customer Reviews
---
Anonymous
Rating:






Awesome beads (blue)
Cut off the first two beads,make sure the third bead is nice and round so there's no sharp edge where you cut it off.Now you have a perfect prostate massager. When inserting slowly make sure that it goes forward towards your prostate. THIS BY FAR THE BEST PROSTATE MASSAGER I EVER HAD, with whole body orgasms.I also took some of the curve out by putting it warm water and bending it in the opposite direction so now it has it only has a slight curve.
---
FoxFace
Rating:






Not Bad
I was able to get some enjoyment with this, but it's not big enough for me.
---
Diane
Rating:






For an anal virgin these were very comfortable .I was able to have the largest ball eaisly. Wish there was one more ball. Brought me off.
---
PowerPuff Girls
Rating:






Awesome!
This is one of my favourite toys. It's not too flexible, which means it's able to go right in deep.
---
Anonymous
Rating:






Mmmm. I have to say, I was rather… iffy.. about anal. Then my girlfriend sprang this on me.. and all I can say now is.. mmm.. feeling it sliding in.. It was perfect for me, it will be for you too.
---
Buy Shane's World Anal 101 Intro Beads
---
Tags:
Anal Beads
California Exotics