Sisqo Is Packing Some Heat
I can't hate. The 'Thong Song" singer and former Dru Hill frontman is packing some heat in that tiny body of his. It's not so much that it's huge (I mean he's a tiny guy after all), but it has a good girth, well-shaped head and a rock hardness that's a must in a high-quality dick. Sisqo has earned his rightful place on the Ultimate Penis Countdown with, dare I say it, a fairly pretty penis.
---
Never Cum Early Again
---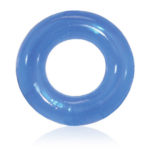 The Ring-O is a super-safe super-stretchy cock ring designed to comfortably fit all sizes and stay snug during even the wildest sexual encounter.
The simple design keeps his erections stiff and strong, and by letting blood flow more slowly to the member, he'll stay harder longer and give him a powerful orgasmic release.
Just stretch the ring onto the base of the penis and watch it grow for longer-lasting, more satisfying sex for both partners. Are you ready to have your best orgasms ever?
Click here to buy the Ring-O Cock Ring today.
---