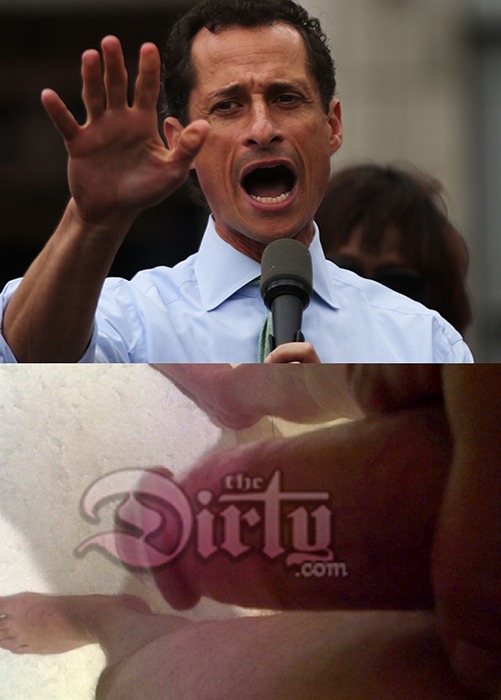 Anthony Weiner: Dick Pics Were Costly
I swear sex makes men stupid. Anthony Weiner torpedoed his entire career just to send pictures of his dick to someone. Not even to engage in any actual intercourse.
Now I don't think dick picks should prevent you from being mayor, but the hypocritical moralizing of this country should have been enough for Weiner to keep it in his pants. Though with a name like Weiner, maybe he just couldn't help himself.
Anthony Weiner dick pic for the win.
The level to which Weiner destroyed his career and to a lesser extent his now-estranged wife's is amazing. By all accounts, he doesn't seem to have met up with any of these women.
It seems to all just be sexting. Sending naughty pics (video?) over and over and over again.
Exactly what level of gratification do you get from just sexting? I understand actual adultery, but just sending naughty pics? That's some serious uncontrollable and expensive hobby right there.
As far as the pic itself, it's not bad. Anthony Weiner looks like he's a card-carrying member of the short and thick club.
It's a club I fully endorse. It is way better than the long and skinny club and is head and shoulders better than the micro-dick club. Okay, that last one was a little cruel, but hey I make no secret that I'm no fan of small penises.
It sucks that Weiner couldn't keep it in his pants. He's actually the type of political figure we need right now. He wasn't afraid to take on the big guys and hold them accountable for their shenanigans.
Unfortunately, his lack of impulse control deprived his country of an important voice and advocate for the little guy. Here's hoping he finally get it together and finds some happiness and satisfaction somewhere.
For more celebrity dick pics read: 45 Celebrity Penis Pics You Gotta See to Believe.
---